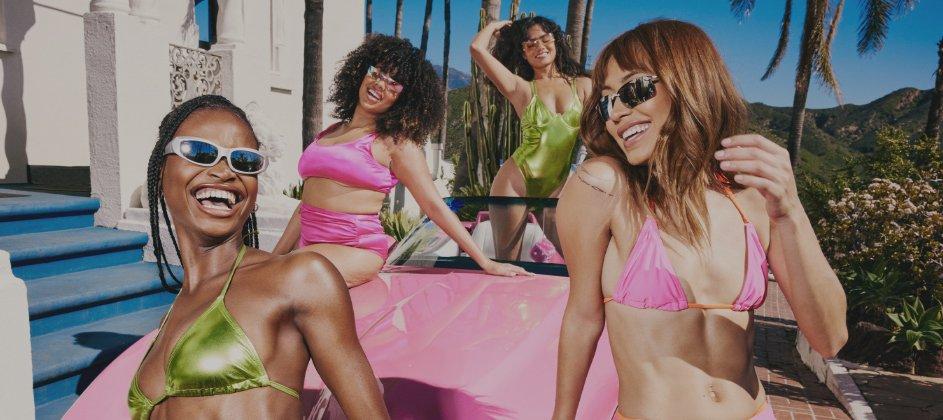 UNLIMITED FREE NEXT DAY DELIVERY, FREE RETURNS AND MONTHLY EXCLUSIVE OFFERS* FOR 1 YEAR!
Works out to just over 83p per month!*
just
Is
£7.99
, was
£12.99
38% OFF
WORKS OUT TO JUST OVER 66p PER MONTH!*
The perks don't stop there! Once you sign up to the boohoo Premier club via
email
, you can expect 365 days of exclusive offers and discounts, unreal competition prizes and early access to upcoming product launches (don't say we don't spoil you).
What you'll get
A whole year's worth of unmissable benefits:
Unlimited UK Next Day Delivery*

EXCLUSIVE FREE RETURNS!

PREMIER
DAYS!

EXCLUSIVE DISCOUNTS & COMPETITIONS*
*Unlimited Standard Delivery will be available where Next Day Delivery is not possible. Any subscription purchased after 12am 02.03.2023 will need to spend a minimum of £10 to receive free next day delivery. Free standard delivery will still be available for order below £10. **When you shop through boohoo.com
What you'll save
| Orders Per Year | Delivery Cost without Premier* | Savings with Premier** |
| --- | --- | --- |
| 3 | £17.97 | £4.98 |
| 5 | £29.95 | £16.96 |
| 10 | £59.90 | £46.91 |
| 15 | £89.85 | £76.86 |
*Based on UK Next Day Delivery price of £5.99.
**Based on premier price of £12.99.
Check your postcode
Make sure your address is eligible before you join!
PREMIER FAQS
Wanna join the club but got a few Q's? From boohoo premier delivery details to prices and more, keep reading to get in the know of all things boohoo Premier.
Subscription - you can subscribe to boohoo Premier from your desktop, tablet, mobile or android device.
Membership - boohoo Premier is valid for 12 months (subject to the exclusions set out below) and is only available to individuals residing in the UK.
Boohoo Account - you must have a registered boohoo customer account and be logged in to your customer account to use boohoo Premier.
Availability - boohoo Premier is available for delivery to UK addresses, postcode restrictions apply if using the Next Day delivery service, check your eligibility. If your postcode is not eligible for next day delivery, other delivery options are available. Due to capacity, the InPost collection option is only available for orders of 3 items or less.

The service in the following areas may take 3 – 5 working days:
Channel Islands, Highlands & Islands of Scotland, Shetlands.

Orders - you must place your order in accordance with boohoo's Next Day, Standard, Hermes, InPost or Northern Ireland Express delivery timescales. It is your responsibility to select your preferred eligible delivery service. Express delivery will not always be automatically selected at checkout and so you should check and select your preferred delivery service.
Delivery - boohoo reserves the right to alter the delivery service valid in this promotion at any time; in this case you will be offered the delivery service available at that time free of charge.
Inclusions - boohoo Premier can be used on either the UK Next Day, UK Standard, Myhermes, or InPost Delivery options.
Cancellation - You can cancel your boohoo premier subscription within 14 days of subscribing by contacting Customer Service. A full refund of the subscription fee will be given if you have not made any purchases using boohoo premier delivery through boohoo.com.
Once a purchase has been made your boohoo premier subscription cannot be cancelled.
Terms & Conditions
You are responsible for using boohoo Premier in accordance with the terms and conditions. Any breach will result in termination of your membership and no refund will be given. Boohoo reserves the right to accept or refuse membership and to change any terms and conditions at its discretion. boohoo will inform you of any significant changes to these terms and conditions. All other applicable boohoo terms and conditions apply.
check your eligibility - boohoo Premier is for personal use only.
Delay outside of our control - boohoo will not be held responsible for any delay or failure to comply with our obligations if the delay or failure arises from any cause which is beyond boohoo's reasonable control.
Termination - We may decide to terminate your boohoo Premier account and you will be given a prorated refund based on the number of whole months remaining in your membership. We will not give any refund for termination related to conduct that we determine, in our discretion, violates these terms or any applicable law, involves fraud or misuse, or is harmful to boohoo's interests or another user.

boohoo Premier is our 1-year membership scheme which gives you access to exclusive benefits such as unlimited next day delivery, free returns, monthly exclusive discounts, competition entries and more!
Simply click 'add to cart' on our boohoo Premier page and checkout like you usually would – it's as simple as that. As soon as you've signed up, your perks will be live!
No – once your 12-month membership comes to an end, your premier benefits will be removed. Don't worry though, you can sign up for another 12-month access straight away!
Joining our Premier club will cost you just £12.99 per year. We did the maths and that works out as just over 83p per month… bargain.
Yes, you'll pay £12.99 once and then have access to all the premier perks for a whole year!
Login into your boohoo account and head over to your account profile. Click on 'My Premier' to check if your premier account is activated.
Yep, you can use your boohoo premier on all menswear product on the boohoo.com website (phew).
If you want to cancel your boohoo premier subscription, you can do so within 14 days of purchase by contacting our customer services team. Providing you have not yet made any purchases using boohoo premier, your subscription fee will be refunded onto your original payment method. FYI, after this date, your subscription cannot be cancelled and no refund will be given.
Subscribe!
*Sign Up with your email to receive your exclusive Premier perks – once you've subscribed then bought, you'll receive your first one straight away!
*First Premier offer will be received within 24hrs after subscribing then purchasing Premier, with subsequent offers then sent on a monthly cadence ongoing. By subscribing you agree to receive marketing communications from boohoo by email. You can unsubscribe at any point.